SUPOON - Sit Up Scraping Spoon
Supoon is the world's best cooking spoon.  It has a flat squeegee tip and flexible sides to scrape your pan or bowl clean, a deep scooping head, measures teaspoons and tablespoons, and its clever handle design is like having a built-in spoon rest so your Supoon's head sits up off your bench.  Dishwasher Safe and BPA Free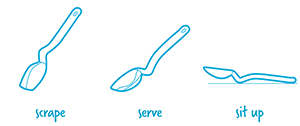 SITS UP OFF THE COUNTER
Keep counters clean and food hygiene thanks to the unique handle design which sits your spoon up and off your counter.
SCRAPE IT ALL
Scrape out every last piece of food from your jar or bowl with the flat silicone scrapping tip and flexible spoon sides.
GREAT FOR CONDIMENTS
Great for serving condiments and measures a perfect teaspoon
SAFE FOR NON-STICK
Silicone spoon is safe to use on non-stick cookware and is heat resistant to 260°C / 500°F
Product Details
Length:   27.9 cm / 11.0"
Width:      3.4 cm / 1.3"
Weight:    0.068 kg / 0.15 lbs
Materials:  Nylon handle and core with LFGB grade silicone head.